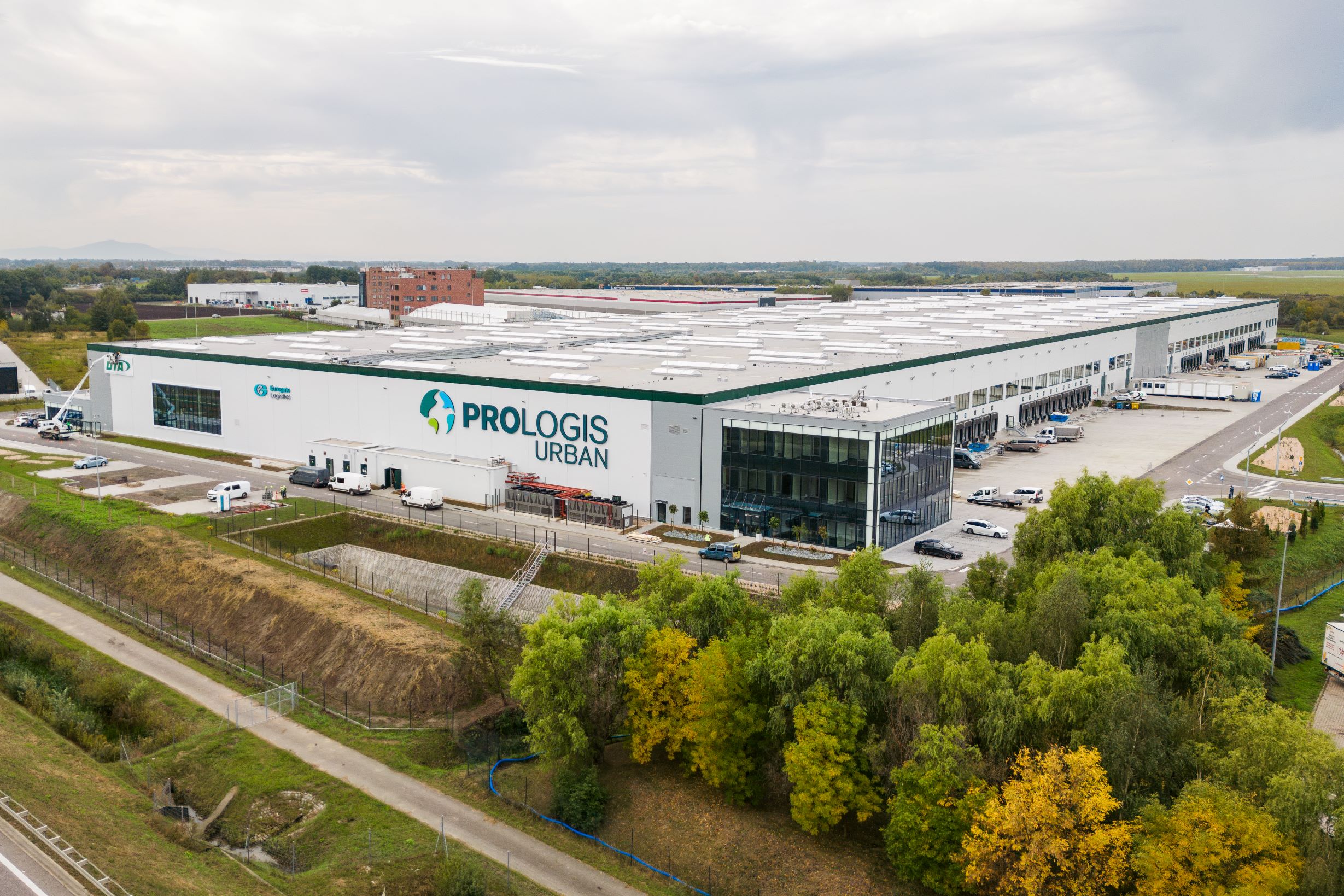 Prologis Europe is pleased to share this recap of its third quarter 2023 activity. This summary includes operating performance highlights and insights into select milestones and achievements.
Ben Bannatyne, President, Prologis Europe:
"As customer demand normalised to pre-COVID levels, our portfolio remains 97.7% leased; with Germany and the Netherlands being the strongest markets and softer demand in Central Europe. We remain focused on capturing our embedded lease mark-to-market AND building out our land bank through our industry-leading balance sheet into a favourable future supply environment while partnering with our customers to address their most critical pain points" 
Operating Performance – Third Quarter 2023:
Total portfolio: 21.3 million sqm

Third quarter total leasing activity: 750,860 sqm: 

180,275 sqm new leases

570,585 sqm renewals

Occupancy: 97.7%

Rent change:

17.1

%*
Operating Performance Central Europe & Poland – Third Quarter 2023:
CE total portfolio: 4,91 million square meters
Third quarter total leasing activity: 213,425 square metres: 

36,256 square metres new leases
135,236 square metres renewals
41,933 square metres short term contracts

Occupancy: 96.0%


 
Poland total portfolio: 2,38 million square meters
Third quarter total leasing activity: 137,946 square metres:

30,808 square metres new leases
67,345 square metres renewals
37,793 square meters short term contracts

Occupancy: 93.7%

* rent change is based on commencement dates
 
Leasing Highlights:
52,659 sqm at Prologis Park Eindhoven DC1, in the Netherlands.
19,278 sqm at Prologis Park Paris Nord II DC5, in France.
15,400 sqm at Prologis Park Hamburg Alterwerden DC1, in Germany.
10,766 sqm at Prologis Park Teresin DC1A, in Poland.
9,003 sqm at Prologis Park Bochum DC1B, in Germany.
 
Capital Deployment – Third Quarter 2023
Q3 2023 has seen a total of 82,118 sqm development starts across 4 locations in Europe. 
47,239 sqm in Prologis Park Breda DC4, in the Netherlands.
19,068 sqm in Prologis Park Jönköping DC2, in Sweden.
13,200 sqm in Prologis Park Lodi DC6, in Italy.
2,611 sqm in Prologis Park Dawley Road Hayes DC7, in the United Kingdom.
Acquisitions:
In the third quarter of 2023, Prologis Europe acquired one 20,217 sqm building in the Netherlands, and 4 land acquisitions totalling 433,553 sqm in the Netherlands, Italy and the UK.
 
Dispositions
In the third quarter, Prologis Europe disposed of one 6,800 sqm parcel of land in Spain.
Additional insight from Ben Bannatyne, president, Prologis Europe:
Our third quarter 2023 performance concurs with our recent research, 'Four forces shaping the logistics real estate cycle', which finds that service levels are fuelling demand again. We're seeing that our customer network expansion needs are rooted in being able to offer speed of delivery and a large range of product choices to the end consumer.
We continue to remain steadfast in our ability to provide customers with more than logistics real estate—from our build-to-suit capabilities to our Essentials platform, offering flexible and scalable complete turnkey warehouse solutions at any point of the customer's journey, regardless of where they are.
We look back at our very successful GROUNDBREAKERS 2023. Insights in automation and AI, today's workforce and innovations in fleet electrification and energy were discussed by industry leaders and are available on-demand now on our website. On October 2, 2024, we will bring the next signature thought-leadership event, GROUNDBREAKERS 2024, to Europe for the first time. The movers and shakers of the industry will come together in London, and online, to share insights on the hottest topics defining the supply chain of the future.
 
Additional Resources/Insights:
ABOUT PROLOGIS
Prologis, Inc. is the global leader in logistics real estate with a focus on high-barrier, high-growth markets. At September 30, 2023, the company owned or had investments in, on a wholly owned basis or through co-investment ventures, properties and development projects expected to total approximately 1.2 billion square feet (114 million square metres) in 19 countries. Prologis leases modern logistics facilities to a diverse base of approximately 6,700 customers principally across two major categories: business-to-business and retail/online fulfilment.
FORWARD-LOOKING STATEMENTS
The statements in this document that are not historical facts are forward-looking statements within the meaning of Section 27A of the Securities Act of 1933, as amended, and Section 21E of the Securities Exchange Act of 1934, as amended. These forward-looking statements are based on current expectations, estimates and projections about the industry and markets in which we operate as well as management's beliefs and assumptions. Such statements involve uncertainties that could significantly impact our financial results. Words such as "expects," "anticipates," "intends," "plans," "believes," "seeks," and "estimates," including variations of such words and similar expressions, are intended to identify such forward-looking statements, which generally are not historical in nature. All statements that address operating performance, events or developments that we expect or anticipate will occur in the future— including statements relating to rent and occupancy growth, development activity, contribution and disposition activity, general conditions in the geographic areas where we operate, our debt, capital structure and financial position, our ability to form new co-investment ventures and the availability of capital in existing or new co-investment ventures— are forward-looking statements. These statements are not guarantees of future performance
and involve certain risks, uncertainties and assumptions that are difficult to predict. Although we believe the expectations reflected in any forward-looking statements are based on reasonable assumptions, we can give no assurance that our expectations will be attained and,
therefore, actual outcomes and results may differ materially from what is expressed or forecasted in such forward-looking statements. Some of the factors that may affect outcomes and results include, but are not limited to: (i) national, international, regional and local
economic and political climates; (ii) changes in global financial markets, interest rates and foreign currency exchange rates; (iii) increased or unanticipated competition for our properties; (iv) risks associated with acquisitions, dispositions and development of properties;
(v) maintenance of real estate investment trust status, tax structuring and changes in income tax laws and rates; (vi) availability of financing and capital, the levels of debt that we maintain and our credit ratings; (vii) risks related to our investments in our co-investment ventures,
including our ability to establish new co-investment ventures; (viii) risks of doing business internationally, including currency risks; (ix) environmental uncertainties, including risks of natural disasters; (x) risks related to the current coronavirus pandemic; and (xi) those
additional factors discussed in reports led with the Securities and Exchange Commission by us under the heading "Risk Factors." We undertake no duty to update any forward-looking statements appearing in this document except as may be required by law.
Newer Article
A revolutionary shift in supply chain is taking place, positively driven by AI and clean energy