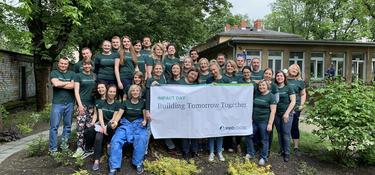 Relationships going deeper than real estate.
FLOURISHING TOGETHER
PARKlife turns our parks into thriving communities where our customers grow together with us. We're committed to building long-term relationships, and delivering a positive impact for communities, environments and individuals around the world. 
IMPACT Day
Once a year, our employees around the globe come together for a day of volunteering and giving back to communities. A total of more than 1,700 Prologis employees from 71 offices in 18 countries have volunteered over 7,000 hours to make a difference in the lives of others.
Outreach
From school visits giving students practical knowledge and insider experience of  logistics, to volunteering work in local communities, our parks are centers of of opportunity for local communities.