Prologis in Poland has won a Great Place to Work® certificate for the second year in a row. By increasing the numbers of people choosing to work in the office and improving its overall result, Prologis proved that it continues to be one of the country's best places to work and grow.
The Great Place to Work® certification scheme is a complex workplace and organizational culture analysis and assessment program, implemented each year by 10,000 companies worldwide. For over 30 years, the program has been supporting companies in developing organizations based on trust, respect and mutual cooperation.
The results of a Trust Index™ survey conducted among employees ultimately determine who wins a Great Place to Work® certificate. In addition, every company completes a comprehensive Culture Brief™ questionnaire, with the leading areas of evaluation being effective leadership, ubiquitous innovation, and positive values.
To receive the award, a Trust Index™ score of at least 65% is required. This year, Prologis' Trust Index score was as high as 88%. Importantly, all our employees cited a strong or very strong belief that Prologis' management makes the right decisions, and 93% of them think Prologis is a great place to work.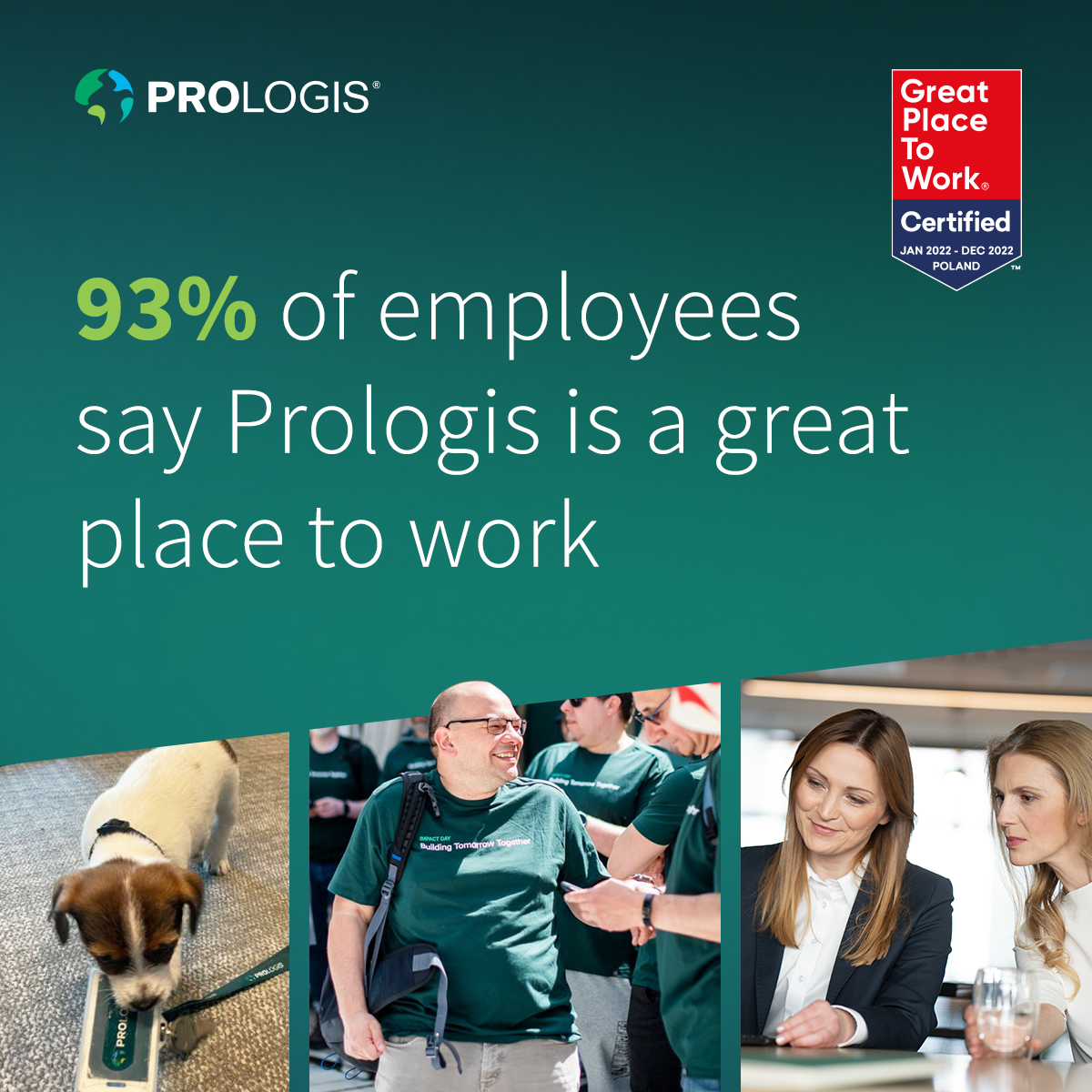 "At Prologis, we understand the link between positive employee experiences and strong business results. We have created an organization in which people trust their leaders, providing the best possible starting point for implementing innovations, agile operations, and continuous development whatever the external circumstances. This year's results are a source of great satisfaction for me, and I'm proud of all #Prologis People who have together made this a truly Great Place to Work®," said Paweł Sapek, Senior Vice President and head of Prologis Central Europe.
Achieving this recognition will only drive Prologis further in its efforts to create a welcoming and friendly working environment which is full of opportunity for personal growth. Whether it's providing development and support for customers, projects, or our own employees, satisfaction is... Made in Prologis.
Older Article
Prologis Properties Facilitate Goods Equal to Nearly 3% of the World's GDP
Newer Article
Bidfood Farutex is growing in Prologis Park Wrocław III