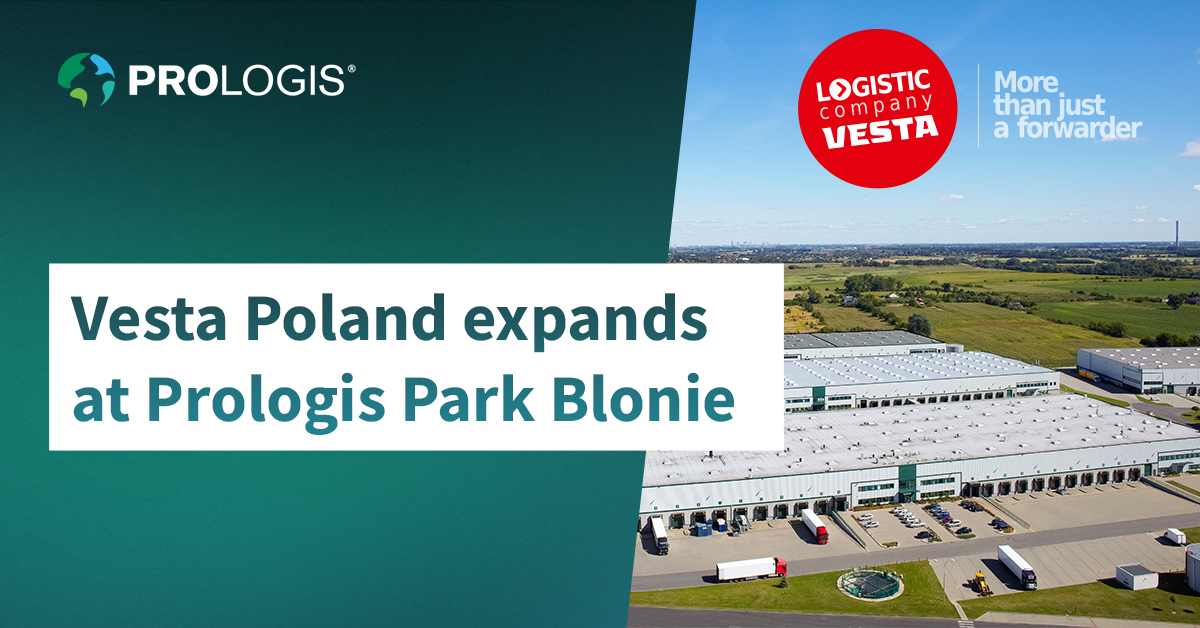 Vesta Polska is one of the largest transport and logistics carriers in the Mazowsze region. The company focuses on consulting, providing optimal solutions for everything from planned forwarding services to advanced logistics operations. This May will mark 10 years since Vesta Polska and Prologis started cooperation, and it will also be the start of a new chapter, as the company has decided to extend its lease for 7,200 m2 while enlarging its space with an additional 4,300 m².
"We're keeping the winning team together! We have been cooperating with Prologis for 10 years now, and we know they're a partner you can rely on, and that Prologis Park Błonie is the perfect location for our business. That's why we decided not only to extend our lease, but also to increase our space at the park. I'm delighted that we will continue to develop our business together with Prologis," said Witalij Rudnicki, President of the Management Board of Vesta Polska.
Optimum Area Wojciech Zoń brokered the lease transaction.
Prologis Park Błonie is a state-of-the-art distribution center consisting of seven buildings with a total area of ​​152,000 square meters. The park is located 25 kilometers west of the center of Warsaw, near the E30/DK92 road connecting Western and Eastern Europe, and close to the A2 motorway connecting Warsaw and Berlin.
This makes the park particularly attractive for companies distributing on a pan-European scale as well as regionally. In 2019, Prologis Park Błonie was named the best warehouse in Poland in the Eurobuild Awards vote.
"We're thrilled that Vesta Polska has again put its trust in us by extending its lease at Prologis Park Błonie. This is proof that good relations and a tailor-made offer are the building blocks of successful long-term cooperation. Our warehouses provide the perfect conditions for development, while the location itself is a major attraction for customers," says Piotr Lenczewski, Leasing & Customer Experience Manager at Prologis.
Whether it's expanding business operations in a new market, creating a comfortable working environment, or being flexible in adapting to customers' specific needs, kept promises are... Made in Prologis.
Older Article
Nippon Express goes into a new gear with more space at Prologis Park Pilsen II
Newer Article
Prologis Hungary welcomes a new Real Estate and Customer Experience leader