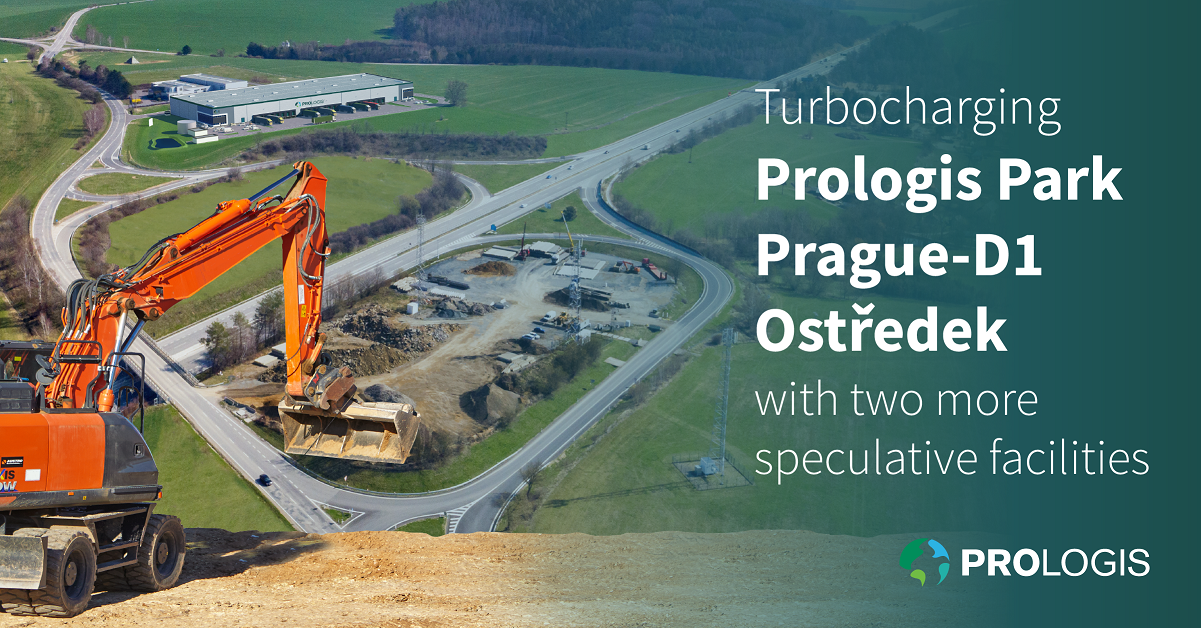 Prologis Park Prague-D1 Ostředek is making waves as one of the most exciting new logistics real estate developments in the Czech Republic. With DC1 recently finished and fully leased, we're already getting to work on two more distribution centers to open up more space at one of the region's most well-connected parks.
Situated on the D1 highway, Prologis Park Prague-D1 Ostředek offers quick access to the Czech capital as well as connectivity with other major Czech cities and international metropolises. It's an unbeatable base for Central European logistics activities, and facilities DC2 and DC3 will soon bring even more space for new customers at the park.
DC2 will cover 21,250 square meters, while DC3 will offer 12,600 square meters. The purchase of land for both speculative developments were brokered by 108 AGENCY.
Construction will start in Q2 2022, with rough landscaping works to commence in September. DC2 and DC3 are currently predicted to start welcoming customers in the second half of 2023.
"The transformation of Prologis Park Prague-D1 Ostředek from a concept to a thriving center of logistics activity is a joy to behold. The park stands out for its location, providing the ideal balance between last-mile access to Prague and connectivity with other major consumer centers in the Czech Republic and beyond. Customers here will also benefit from our latest warehousing innovations to provide them with cost-saving and green solutions" said David Jakeš, Project Management Director at Prologis.
These innovations include LED lighting and smart metering systems ensuring cost-effective use of utilities. A key innovation at the park will be the use of heat pumps: this is our first park in the Czech Republic to feature this technology for ensuring energy-efficient heating and air-conditioning. As with all new Prologis facilities, DC2 and DC3 will go through BREEAM accreditation to establish the effectivity of their eco-friendly designs.
Prologis' local team will also be on hand to help customers at DC2 and DC3 make the most of their new space through tailored solutions specific to their needs.
The construction of DC2 and DC3 is a major leap forward for Ostředek, but the park isn't stopping here. Work is already underway to secure building permits for buildings DC4 and DC5, with zoning permit already granted for this further stage of development at the park.
Ostředek is already making its mark on the Czech logistics map, and space in buildings DC2 and DC3 is certain to be highly sought-after. Whether its providing great logistics locations, creating state-of-the-art warehouse spaces, or helping customers make the most of our parks, opportunity is… Made in Prologis.
Older Article
22,000 square meters for Super-Pharm at Prologis Park Teresin
Newer Article
Driving the Tide of Change with Prologis IMPACT Day