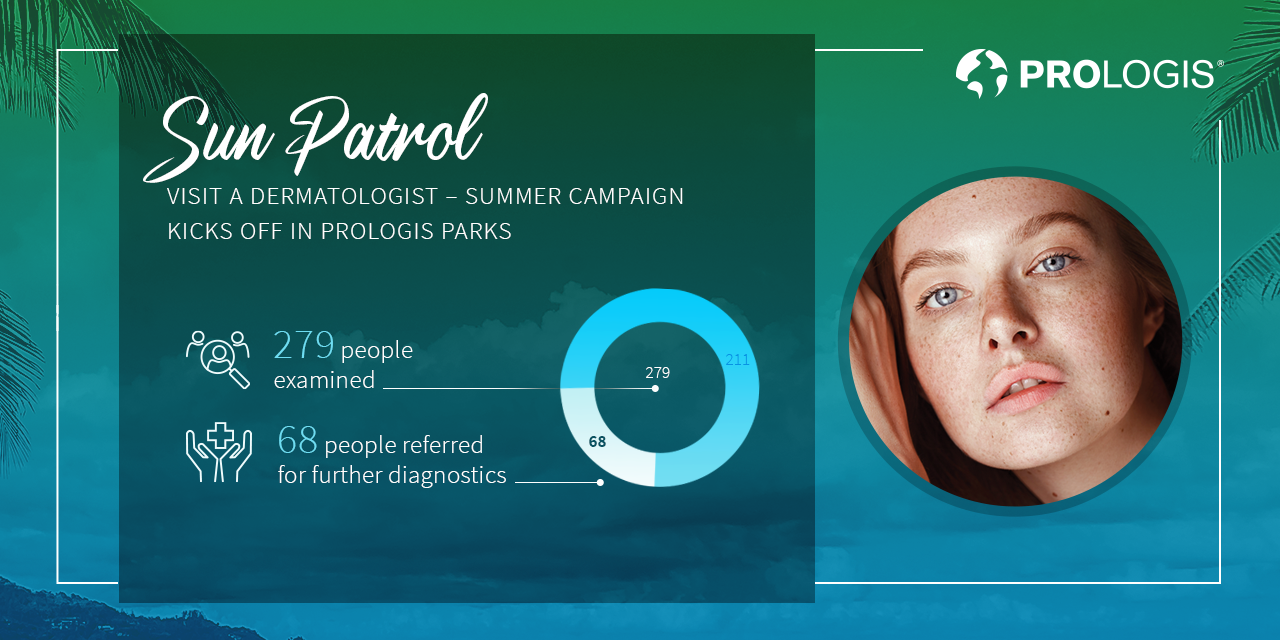 We always put people first. They're the ones who motivate us to act, develop and search for the best solutions, so amid the summer heat, we decided to take care of those who work in Prologis parks on a daily basis. As part of our "Sun patrol – a visit to a dermatologist" campaign, we invited customer employees at four Prologis parks for free dermatological consultations.
The campaign encouraged people to enjoy the sun safely, by making them aware of issues often examined in skin condition checks such as birthmarks, moles, and skin lesions. As many as 279 people took advantage of the free inspections, with 68 of them referred for further diagnostics. This meant every fourth patient had skin characteristics making a consultation with an oncological dermatologist or surgeon advisable.
"Prevention of skin diseases, especially cancer, is extremely important. You should watch out for any changes in freckles and moles. A change in color or size and shape may be a warning sign, and early detection of such changes could be crucial for your health. That's why we set off for Poland, enabling people working in our parks to undergo a skin condition check, giving them the best chance to detect any concerning changes early. I hope that with this activity, we have helped people working in our parks take better care of themselves and their health," said Renata Kocemba, Marketing & Communications Manager Central Europe at Prologis.
Dermatologists visited Prologis parks in Chorzów, Dąbrowa Górnicza and two of our parks in Łódź, providing valuable advice and, if necessary, referring employees to specialists for further tests. Patients received professional care and left the appointments feeling confident, having gained knowledge about their skin and its proper care this summer.
The events were so popular that, due to high demand for similar activities elsewhere, they will be repeated in more locations with an expanded scope of medical consultations. Whether it's the development of customers' businesses or concern for the well-being of their employees, fulfilled promises are ... Made in Prologis.
Older Article
Free Health Checks with Prologis Help Employees Stay Fit as Fiddles in Hungary
Newer Article
Bicycle SPA – A New Two-wheeler Service in Prologis Parks