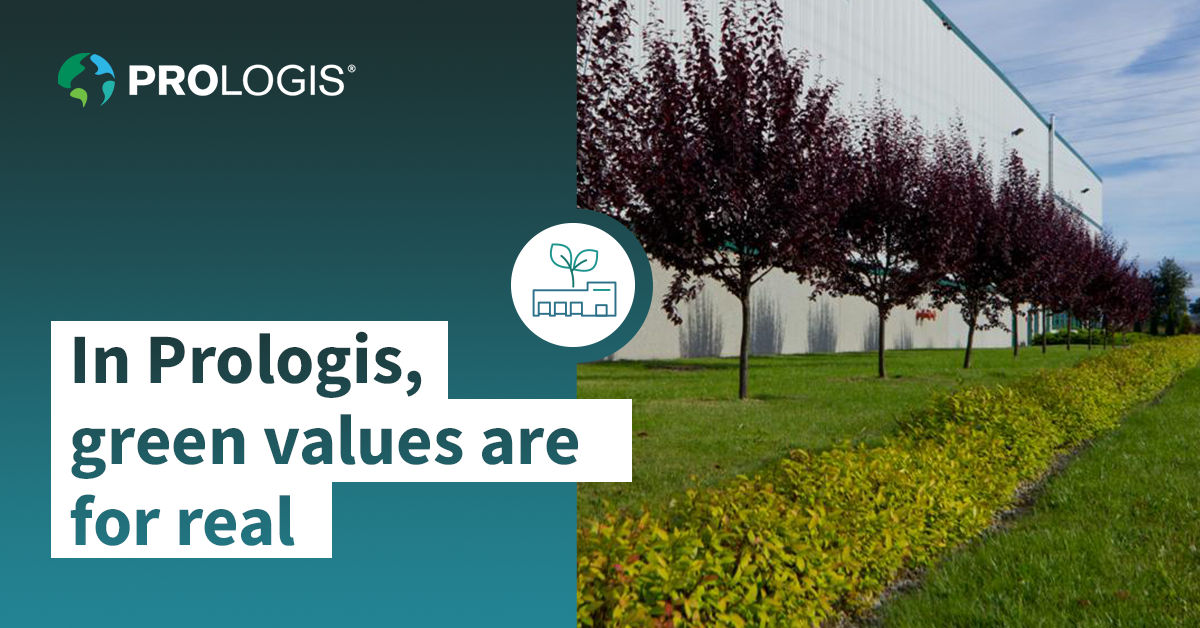 Energy producing warehouses. Carbon-neutral logistics centers. Industrial parks where employees can relax in vibrant and flourishing well-being zones. These aren't visions of the future – they are Prologis buildings today, where green solutions have been a priority for years.
The global leader in logistics real estate creates its parks while taking great care for the protection of natural resources, the preservation of biodiversity, and the comfort of people working in them. For years the company has led the logistics real estate industry in this area, proving that sustainable construction should be treated holistically, combining solutions for environmental protection, operational efficiency and social responsibility.
Prologis is the first real estate company in the world to be listed on the S&P 100 stock exchange for achieving carbon neutrality in its operations. The company aims to disseminate its knowledge by sharing experience and expertise with its customers.
Ecology in every detail
"We follow the principle that we should give as much to nature as we draw from it. Customers come to us because they trust our expertise and know we will support them with dedication. When L'Oreal wanted to achieve carbon neutrality in its logistics operations, we delivered a building in Germany equipped with a 2 MW solar installation, while also providing certified renewable energy from local wind and water sources," says Paweł Sapek, Senior Vice President and Regional Head for Central Europe at Prologis.
Prologis regularly exceeds industry standard with its projects. On the roof of L'Oreal's warehouse in Muggensturm, the company even created a protective habitat for larks, covering an area of ​​30,000 square meters. Soon, Prologis' entire global portfolio will be fully equipped with environmentally friendly LED lighting which also enhances working conditions. This is possible thanks to the Prologis Essentials LED program, now available in Poland after being launched a month ago on the European platform Prologis Essentials Marketplace, facilitating simple transitioning to intelligent, energy-saving LED lighting systems.
Prologis realizes that offering innovative solutions is only half the battle, and customers should be encouraged to take the opportunities presented to them.
Therefore, the company demonstrates the profitability of ecological solutions and tries to facilitate such transformations. Thanks to its scale of its operations, Prologis offers favorable prices, organizes transformation processes, and provides support at every stage, from design to implementation. As knowledge spreads about the benefits of ecological solutions, customers are becoming increasingly aware of the importance of responsible management of natural resources. Prologis does everything possible to support them in their transition to the "green side of the force," especially by pioneering activities and green initiatives seen in Central Europe.
Prologis Park Budapest-Harbor in Hungary was the first logistics center in the world to use solar panels mounted in paving slabs, powering the park's electric vehicle charging station. Meanwhile, a distribution center for the owner of the RTVeuroAGD brand built at Prologis Park Janki has various ecological solutions, from hybrid wind and solar powered lights, through a rainwater recovery system, to a concrete cube drawing CO2 from the air. With almost 90 million sqm of warehouse space in 19 countries, through which goods with a value of 2.5 percent of the world's GDP flow each year, Prologis knows it has a lot of responsibility.
For water, earth, air and people
We care about sustainable development: for employees and communities; for the natural environment, on which we have a significant impact as a global company; and, of course, for the growth of our customers' businesses, which is a key part of our own success.
"Our ESG strategy can be compared to a system of interconnected streams – care for natural resources, social responsibility, transparency of corporate activities – each of which provides us with further development flowing into innovation, which we then offer to our customers. We constantly seek to raise the bar of our ESG standards, which is why all our activities in this area are measurable and reported in detail each year. When we significantly exceeded our goal of generating 200 MW of solar energy last year, we didn't rest on our laurels – we introduced a new goal to generate 400 MW by 2025," explains Paweł Sapek.
Prologis' commitment to sustainability has been recognized. The company was awarded a maximum eight Green Stars by GRESB (Global Real Estate Sustainability Benchmark), and was ranked first in the real estate sector in the Global 100 ranking of the most sustainable corporations compiled by Corporate Knights.
456 – The number of warehouses in Prologis' portfolio which are certified for their sustainable construction.
212 MW – The total capacity of solar installations equipped on the company's warehouses.
88 percent – The proportion of Prologis facilities now equipped with energy-efficient lighting.
Prologis is the publication's partner. The material was published in Puls Biznes.
Older Article
Our Goal is to Always be a Step Ahead of Customers' Expectations
Newer Article
More Spaces for Sport and Relaxation Spring up in Prologis Parks in the Czech Republic