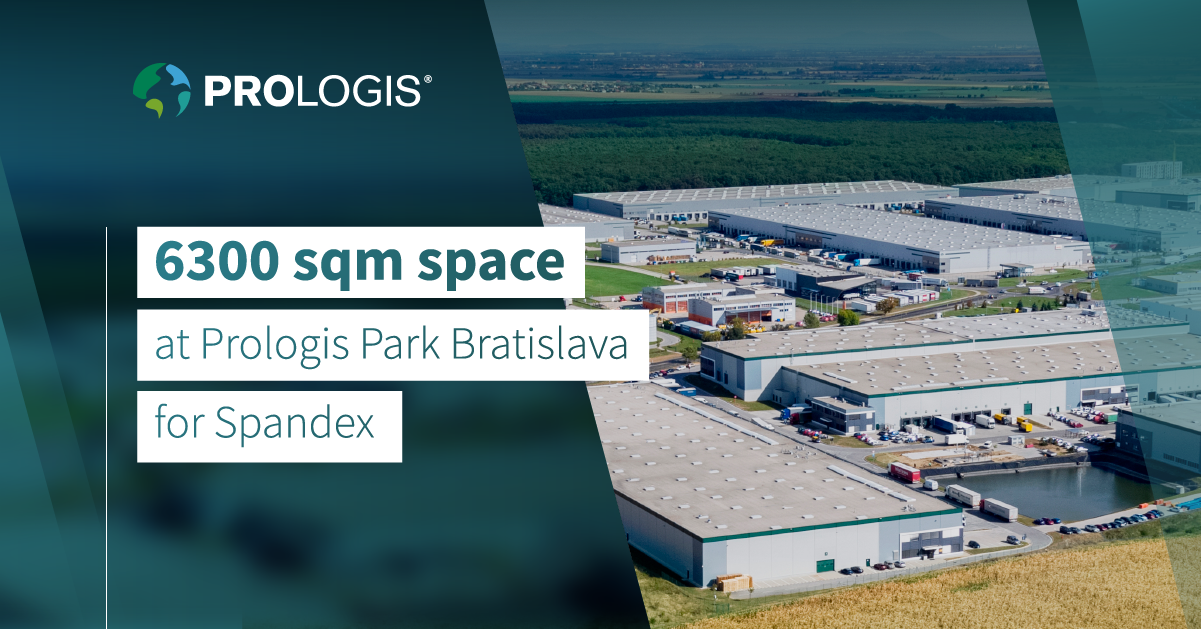 Building strong relationships with our customers is our number one priority. By getting to know their businesses in detail, we're able to bring them services going above and beyond warehouse space, helping them grow and thrive at our parks.
We're always thrilled when this spirit of collaboration pays off, and Spandex, a customer at Prologis Park Bratislava since 2005, is now upgrading its space to consolidate its two locations in Slovakia under a single roof. Moving from DC4 to DC10 and increasing its space from 3,500 sqm to 6,300 sqm, Spandex will newly use Prologis Park Bratislava as a warehouse as well as an office with attached showroom, supporting the company's impressive growth on the mid European market.
The long-term deal will open up new opportunities for the Prologis team to help Spandex thrive. The company, which offer branded materials, hardware, sign systems, displays, vehicle wrapping and architectural materials for some of the region's leading brands, will move into its new facility in July 2022.
"Spandex started working at Prologis Park Bratislava over a decade ago, and since then we've built up a strong understanding of their business," said Jakub Randa, Development and Leasing Manager at Prologis. "This new expanded space will allow the company to press forward with its impressive growth trajectory. And as our relationship grows even stronger, our local team will be on hand every step of the way, providing tailored services and 24/7 support."
Tailor-made solutions for Spandex at the new DC10 facility will include an access ramp for direct entry to the warehouse, and a new showroom designed specifically for Spandex products. And as Spandex expands its team at Prologis Park Bratislava, in line with the new possibilities afforded by its upgraded location, more workers will be able to enjoy Prologis PARKlife™ facilities enhancing employee wellbeing and job satisfaction. In Prologis Park Bratislava, these include a five-a-side football pitch, an open-air gym, BBQ area, bike shelters, electric vehicle charging stations and more.
"Bringing together our teams under a single roof at Prologis Park Bratislava will provide a great opportunity to drive our business forward," said Boris Podlucký, General Manager, at Spandex EE. "Prologis have listened carefully to our needs, and presented us with a space which is ideal as a warehouse, office and showroom; everything we need to keep delivering for our customers."
When a customer takes more space at one of our logistics parks, it's confirmation that we've been able to help them with the right space and personalized services. Whether it's opening up new avenues for growth, helping customers realize their potential at our parks, or enhancing job satisfaction with great amenities, success is... Made in Prologis.
Newer Article
Our Goal is to Always be a Step Ahead of Customers' Expectations